TESTIMONIALS
"Their work is always 100%!"
Church Brothers Castleton - September, 2011
- Jeffrey F. - 2002 Chrysler
Church Brothers Collision Repair Announces 2014 Tom Hines Memorial Scholarship Recipients
Published Monday, June 9, 2014 10:37 pm
by Teresa L. Russel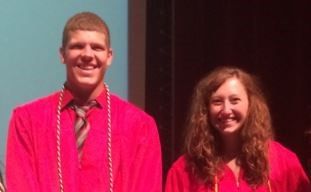 Indianapolis, IN – May 30, 2014 -- Church Brothers Collision Repair LLC, a family owned collision repair company since 1929, is excited to announce the recipients of the 2014 Tom Hines Memorial Scholarship. Two graduating seniors from Center Grove High School in Greenwood, Indiana will each receive $2,000 to support their respective college educations. The scholarship is funded through peer donations at the annual Tom Hines Memorial Golf Outing and matching funds from Church Brothers.
Tom Hines was a member of the Church Brothers family for 22 years before he passed suddenly and unexpectedly in July, 2011. During his time with us, Tom served as a leader, mentor and friend. He managed his employees with patience and compassion and even took the time to coach managers and employees at other Church Brothers locations. He was also an active member of the community, helping out individuals and local businesses whenever he could. At the time of his passing, Tom was the Facility Manager at our Greenwood location at Main Street and 135, a role that he enjoyed for many years. "Tom attributed a large part of the Greenwood store's success to the support he received from the Center Grove community," said Ted McClintic, President of Church Brothers. "The Church Brothers family felt giving back to the community that gave so much to Tom would be the perfect way to honor his memory and create a lasting legacy."
Church Brothers partnered with the Center Grove Scholarship Foundation (CGSF) in 2012 to create the Tom Hines Memorial Scholarship. This is the third year scholarships have been given in Tom's name. The two recipients, one male and one female were selected from over 50 students who applied for the scholarship and met or exceeded CGSF's academic requirements. The scholarships were awarded as part of Senior Honors Day today and we are proud to announce that Lauren Mackenzie Clute and Eric John Kwiatkowski are this year's Tom Hines Memorial Scholarship winners.
"We wish the very best to these two fine young people and hope they will continue to exemplify the characteristics that already set them apart."
For more information on Church Brothers please visit www.church-brothers.com.
CONTACT:
Teresa L. Russel
Church Brothers Collision Repair
Ph: 317-845-3095 ext. 210