TESTIMONIALS
"They did a great job, and we will recommend them to others!"
Church Brothers Northwest - August, 2011
- Amy & Hayes Y. - 2005 Cadillac
SUPPORTING THE COMMUNITY
THAT SUPPORTS US.
Church Brothers has been blessed over the years, with thousands of loyal collision repair customers who have trusted us, to help them through a less-than-positive experience in their lives.

Philosophically we believe in the theory of those who give are the ones that get. We know our success comes from more than luck and we feel that we have a duty to help others in our Community who might need it.
If you have something to give, the groups below will graciously accept any donation you have to offer and will apply it to someone who really needs it.
Here are a few of the organizations we have recently supported with labor or through our food drive.
Riley Children's Hospital

Sheltering Wings

Concord Neighborhood Center

Third Phase

Johnson County Salvation Army

Old Bethel United Methodist Church

Shepherd Community Center

Indiana Animal Care & Control

Indianapolis Soap Box Derby

There are many important attributes that separate those who have a broad appreciation of the responsibility success brings, and those who do not.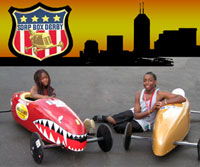 The Indianapolis Soap Box Derby and Church Brothers together are building a relationship, a future, and a commitment for children one car at a time.

TESTIMONIALS
"They did a great job, and we will recommend them to others!"
Church Brothers Northwest - August, 2011
- Amy & Hayes Y. - 2005 Cadillac